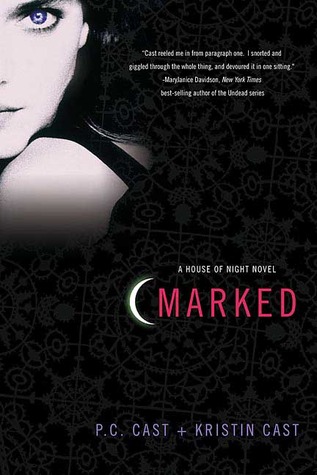 After a Vampire Tracker Marks her with a crescent moon on her forehead, 16-year-old Zoey Redbird enters the House of Night and learns that she is no average fledgling. She has been Marked as special by the vampyre Goddess Nyx and has affinities for all five elements: Air, Fire Water, Earth and Spirit. But she is not the only fledgling at the House of Night with special powers. When she discovers that the leader of the Dark Daughters, the school's most elite club, is mis-using her Goddess-given gifts, Zoey must look deep within herself for the courage to embrace her destiny – with a little help from her new vampyre friends (or Nerd Herd, as Aphrodite calls them)
One of my best friends told me about this series so I figured I had to give it a try! She was spot on too. Even though I'm in my thirties I enjoyed this book immensely. I don't think I have anything bad to say about this book at all. What I liked most was even though Zoey is a good kid, the kids around her weren't always good. The authors did a great job of creating a real teenage world that doesn't sugar coat some of the trials or pressures they might encounter.
This story was fast paced, easy to read and hard to put down. If you are looking for a vampire book and for some reason haven't gotten to this series yet pick it up. I plan to read the rest of the series myself because the story is just that great!!
Goodreads / Amazon