Prophecies don't untangle themselves.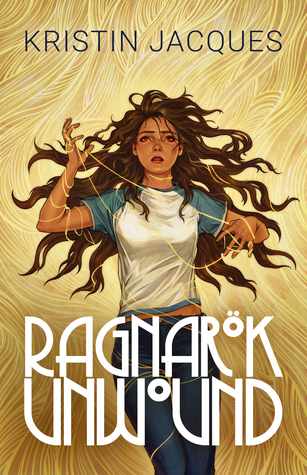 Just ask Ikepela Ives, whose estranged mother left her with the power to unravel the binding threads of fate. Stuck with immortal power in a mortal body, Ives has turned her back on the duty she never wanted.
But it turns out she can't run from her fate forever, not now that Ragnarok has been set in motion and the god at the center of that tangled mess has gone missing. With a ragtag group of companions—including a brownie, a Valkyrie, and the goddess of death herself—Ives embarks on her first official mission as Fate Cipher—to save the world from doomsday.
Nothing she can't handle. Right?
*We were given a copy of this book in exchange for an honest review*
Ragnarok Unwound was an interesting read, and definitely different than what I usually go for. If follows the story of Ives, a Fate Cipher, who, unlike those in the past, is mortal; however, despite her morality and inexperience, she is still responsible for helping to stop the coming of Ragnarok.
There are gods, magic, and faeries. Everything is woven together with humor and human-ness that make the characters seem real. It also offers very cool visuals, including fate being threads connected to each individual, all woven together until death.
That being said, it does lack a bit of depth and reads like it is a sequel instead of the first book in the series. I would've liked to know more about the main character, her family, and her companions outside of fighting for the world to not be destroyed so that I could've cared more about whether they lived or died.
If you like fantasy stories that have mythical gods cracking jokes and trying to save the world, this is for you!
Goodreads Expected Release date of January 8, 2019
This review was done by MJ. You can follow her on Twitter and Instagram.
Mother of two, caffeine addict, sleep deprived book eater.
Kristin Jacques writes primarily speculative fiction, dabbling with dark adventures, monsters, mayhem, and the occasional sarcastic zombie.
When not at her computer spinning tales she is generally herding cats or snuggling with her gremlins.
Twitter
Website
Facebook
Instagram